Essential Bach: Arranged for the Guitar
14 January 2013
47,303 views
3 Comments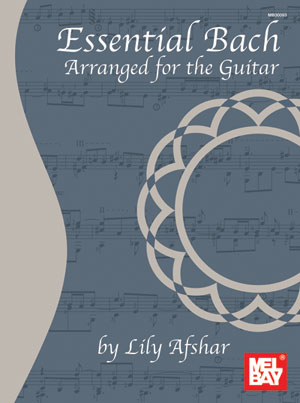 Playing the music of J.S. Bach is a requirement for entering most college programs. Guitar students are often confused as to which edition of Bach they should play. Sometimes they combine different editions, or sometimes, if they know how to, they make their own edition after studying Bach's original.  Both are laborious and time consuming tasks and require harmonic and contrapuntal knowledge.
When you talk with a string player, the first thing they say about Bach is the "LINE"… Keep the line going, don't break the line, and make the line sing.
After years of observing guitarists suffering through playing Cello Suites, Prelude, Fugue and Allegro and Lute Suites, and that string players performed them without any difficulty, I started looking at different editions and the originals to see why playing Bach was so difficult for guitar and not for other instruments. I witnessed cellists and violinists whip through the pieces, while guitarists labored through them.
In analyzing various editions, I isolated the problem: Too many bass notes were added.  Guitarists would just forget about the musical line because they were too preoccupied with getting from one chord to the next and from one shift to the other. Playing Bach would just become a technical challenge with little enjoyment for the guitarist.
For years I used whiteout and pencil and eraser constantly changing and making Bach compositions playable for my students.  In the end, I created my own editions from scratch.
So here is a fresh approach to playing Bachon the guitar. These arrangements make them sound as pleasing as they sound on the cello and the violin. I used cross-string fingerings to make the lines smoother. I found that some editions used cross-string fingerings here and there but not consistently. There are so many possibilities for fingerings and with each added bass note, fingerings change. I added bass notes only when they were necessary to fill the harmony but always keeping the smoothness of line in mind. 
By using cross-string fingerings, I did not add as many slurs thereby making the guitar sound fuller and richer on several strings. More open strings are used throughout to make a scalar or melodic passage more fluent. Cross-string fingerings eliminate unnecessary accents that happen in shifts and playing on one string. They help create the dynamic nuance a performing guitarist needs.
 Right hand fingerings become very important since we are dealing with multiple strings. There are also stretches in the left hand because we are not always covering four frets, but five. The fingerings present a new challenge but one that is more rewarding in the long run.
Most editions don't even offer dynamics and articulations and I noticed that students do not even think about it if there are none written in the music.
As for notation, most guitar music notates the fingerings way above the notes forcing the eye to work harder to see the fingerings after seeing the notes. I have notated my fingerings very close to the notes so the eye sees both note and finger at the same time, making the reading much easier.
This publication will finally make playing Bach enjoyable and not scary or difficult like most students feel. The fingerings are idiomatic and the music comes across as if the pieces were written for the guitar.
Now, go forward and enjoy Bach on the guitar!
Lily Afshar